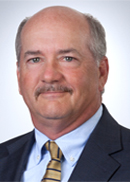 Treasurer
Navigant Consulting Inc.
Date taking office: October 4, 2013
Gregg Curry is a Managing Director with Navigant Consulting's Phoenix office. He is a CPA with accreditation in business valuation and is certified in financial forensics. His practice centers on litigation disputes, financial investigations, and restructuring and bankruptcies services. He has extensive forensic accounting experience in preparing economic damage studies and analyses, such as lost profit claims and business valuations. He also provides other consulting services related to fraud investigations, breach of contract matters, antitrust violations, business interruptions, intellectual property disputes, dealer terminations, construction cost overruns, accounting malpractices, bankruptcies, securities litigation, wrongful deaths, personal injuries, and other business disputes.